Today I will tell you about Skitto SIM Flexiload Code. All Skito SIM codes are here for you. Many people face problem to recharge flexiload or money on Grameenphone Skito SIM.
But it totally depends on flexiload shopkeeper, if you flexiload from shop.
However as a Skito SIM administrator you also need to know exactly how to flexiload into a Skito SIM.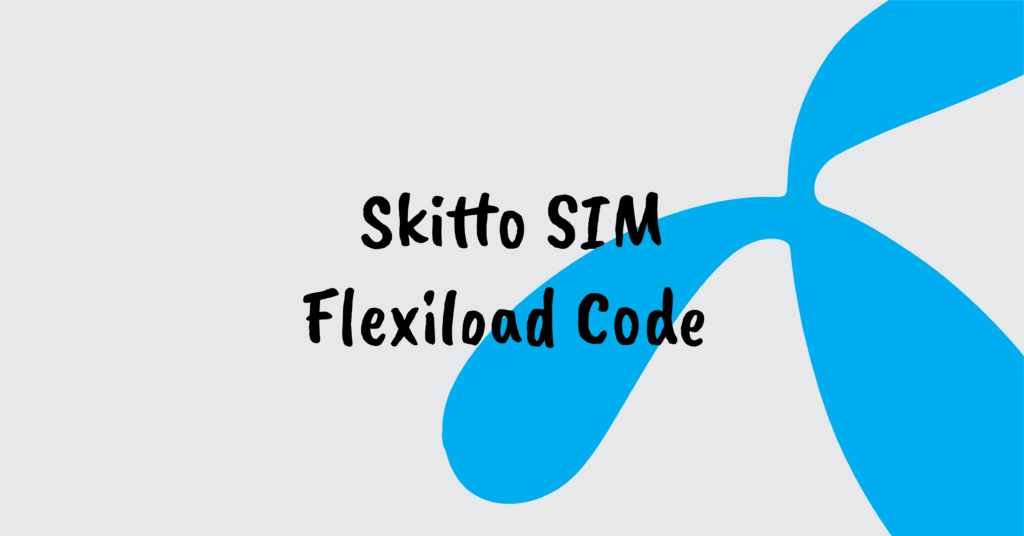 Because I myself have faced this problem more than once the shopkeeper can't tell me how to flexiload on Skito SIM.
Basically Grameenphone flexi load method and Skito Taka recharge method are different. However, using Grameenphone Flexiload SIM, money is loaded on Skito SIM.
Skitto SIM Flexiload Code | স্কিটো সিম ফ্লেক্সিলোড কোড
You can use multiple methods to load money into Skito SIM.
At present, all the known mobile banking services in Bangladesh are offering the facility of recharging your Skito SIM.
Also you can easily recharge your Skito SIM using GP Power Load.
Dial *666* Customer Number* Amount* Pincode# from Flexiload SIM to recharge money from Flexiload store to Skito SIM.
Used to load money from Grameenphone Flexi Load SIM to regular Grameenphone SIM *222* Customer Number* Amount* Pincode#.
So, Skitto SIM Flexiload Code is *666#.
That is if you want to Flexiload your Skito SIM from Flexiload Shop you need to recharge the SIM using this method.
If the shopkeeper doesn't know then you tell him to recharge money from GP Flexiload SIM to Skito SIM by dialing this code.
Skitto SIM Flexiload Code is applicable only for recharge from Mobile Shop.
You can purchase Skito SIM offers from mobile banking services directly through Skito Apps.
Also you can recharge money by selecting mobile banking service from Skito app.
You won't need any kind of skito flexiload code for that.
All codes of Skito SIM
| | |
| --- | --- |
| Skitto SIM Flexiload Code | *666# |
| Skitto SIM Balance check Code | APPS |
| Skitto SIM Number check Code | *2# |
All codes of Skito SIM
Friends there are many of us who use Skito SIM but you face problems because of not knowing the correct information about operating the SIM.
Basically Skito SIM can be called a digital SIM. Many things of this SIM are similar to Grameenphone.
But in some cases Grameenphone doesn't solve the problem to use the codes so you have to follow the rules properly to use Skito SIM.
Unlike other sims, Skito doesn't give you different codes for all things.
For example, you will not be given any code to check Skito MB, it is necessary to check the MB of your Skito SIM by directly logging into the Skito app.
Also Grameenphone balance check code *566# doesn't work on Skito SIM T so you need to login to Skito SIM A Apps to do this also.
Skitto Flexiload System
You already know about Skito SIM Flexiload system. Basically Skitto SIM is flexiloaded from GP Flexiload of Grameenphone.
So without worrying about this, you can flexiload easily on Skito SIM when any flexi is loaded on gramin phone.
Friends skitto flexiload system is very easy.
Skitto Recharge Offer
Friends you should know about Skito recharge offer.
No offers are running on direct recharge on Skito SIM.
However, if you use Skitto Apps, you can know in detail what kind of offer is available for you in Skitto SIM Offer.
Skitto Recharge from bkash
Yes now you can easily use Bikash mobile banking service to recharge Skito SIM.
To recharge skitto from bkash you need to click on Buy Online button while purchasing skitto offer.
Then select Bikash payment option.
Then you will be asked for your development number.
After that a verification code will be sent to the development number, that code number has to be given.
Then once you enter your Bikash PIN code, the money will be deducted from the Bikash account and the Skitto Offer of your choice will be activated.
skitto promo code
Friends to use skitto promo code you should check the regular promotional sms from skitto.
You can also buy cheap internet offers by using skitto promo code.
conclusion,
Hope you got to know about Skitto SIM Flexiload Code.
Skitto SIM is specially designed for Grameenphone Internet users.
Another feature of Skitto SIM is that you don't have to use different recharge methods to get the call rate on this SIM, no matter what amount you recharge you will be given the same call rate all the time.
Earlier this Skitto SIM mostly offered only internet but currently internet and minutes bundles are being offered.
Bundle offers where you don't need to use another SIM to talk, just use Skito SIM.
Visit our site regularly to know Skitto SIM internet offers.