How to check skitto sim balance? Many people have problem to check internet balance and main Skitto sim balance of their Skitto sim. Although Skito is a Grameenphone SIM, Grameenphone's balance check method and Skito balance check code are not the same.
Bangladesh is constantly increasing the number of internet users.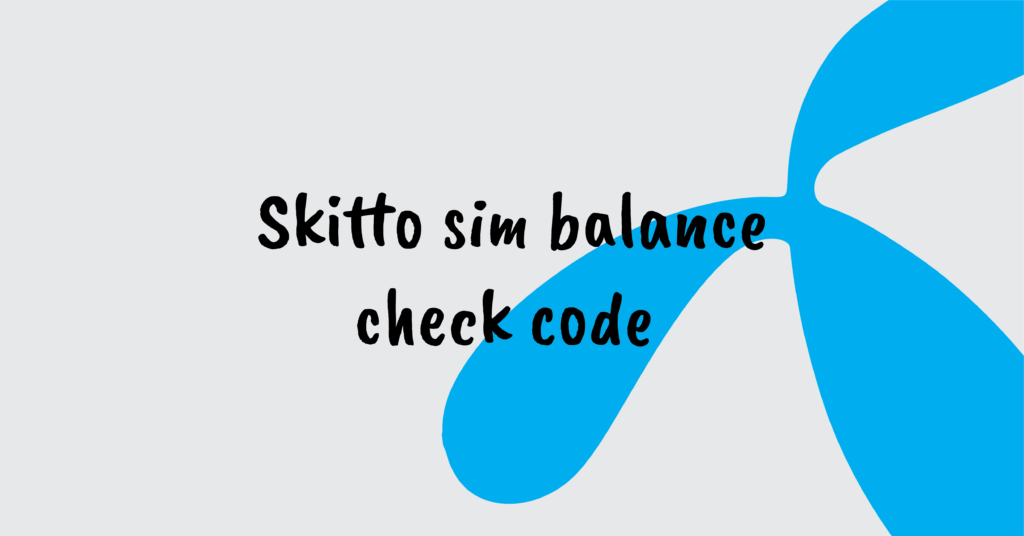 There is a special SIM for customers who use the Internet more, or who prefer to use more Internet, by purchasing this SIM, the customer can use the Internet at 4G speed anywhere in the country.
What is Skitto?
Skito is a SIM like any other normal SIM. But Grameenphone company has a regular SIM.
In addition, GP has come up with a different SIM, called Skitto, to provide faster internet service to its customers.
Basically, this step is taken by Grameenphone to encourage Internet users in Bangladesh to use the Internet more.
The SIM is specially designed and all kinds of internet offers are put into Skito SIM at a very cheap price and in a way that the customer can easily purchase.
Skitto sim balance check code and skitto balance check is very easy.
Friends, the main feature of Skito SIM is its internet offers along with easy skitto balance check system.
If you want to use the internet offer more then definitely buy this Skitto sim provided by Grameenphone.
Skitto SIM balance check code
Skitto sim balance check code is *121#. But after dialing this code you will not see balance directly you need to follow some more steps to check Skitto sim balance.
Next dial Skito balance check code 121 (1. Balance check) If you select balance check your account balance will be displayed.
And also you will be shown some more menu.
From where you can check your current balance, minute balance, internet data balance, Skito SMS balance.
Friends to check the skito balance even if no balance check code was provided to the customer earlier by the skito side, now this facility is available.
However, since it is a Grameenphone SIM, many people think that they can check the balance with the Grameenphone regular SIM balance check code.
But Skito is a completely different SIM, its balance check method is completely different from Grameenphone.
Skitto sim balance check form apps
However, Skitto encourages you to complete all types of offers from Skitto SIM offers to Skitto sim balance check through Skitto Apps.
You can know about Skitto sim apps only by activating Skitto sim.
After successful login of Skitto sim apps you will see your balance first. Then you can tap on other options as well.
But many people have problems with Scooty password.
However, Skito number is used as the username to login the Skito SIM app and first the default password is given from one to six numbers.
If you want to check Skitto sim balance check then you must login with username and password.
skitto internet balance check
Friends skitto internet balance check method and balance check is easy. After dialing Skito Balance Check Code *121# you need to select the MB Check option at number three.
Successfully login Scooty Apps you can see MB of Skito SIM by tabbing.
skitto app login
Friend said earlier after purchasing skeito sim you need to check your skeito sim balance by installing skeito apps download and login to skeeto apps.
Skito SIM username is your Skito SIM number.
New Skito SIM password is 123456
But if the new Skito SIM password is changed for any reason, get the Skito password from the SIM vendor.
Skitto sim password recover
To check Skito SIM balance first you need to login to Skito Apps.
The first time you login to Skito app you will see an interface like this.
Enter your Skito SIM number here and you will be taken to the Skito app login dashboard from Skito.
So if you don't know the Skito password, or you have forgotten it, you will be asked for the password when you open the Skito apps.
If you do not know the password, you can click on the Forgot Password button to recover the password.
are you sure
You will need to create a new password
Press OK button.
Now an SMS code will be sent to Skito SIM. The code you can use to change your Skito SIM password.
If you have any problem to successfully change Skito SIM password you can also take service from your nearest Grameenphone customer care or Grameenphone recharge point.
How do I check my skitto balance?
Skitto SIM users will find all the Skitto information in the skitto mobile app or dial *121# (free). skitto app home page is skitto balance page.
In conclusion,
You have learned about Skitto sim balance check method. Here we post about Skito SIM offers Grameenphone offers and all other SIM offers.
Hope your skitto sim balance check code completed easily.
Join our facebook page to know all telecom offers in Bangladesh with Skito SIM on your facebook.