Welcome to GP Monthly Internet Pack 2023 Post. Read the full post to know about the GP New Internet Offer 30 Days list. Bangladeshi most popular Telecom GP is providing internet in that offer more and more internet is being given to the customer.
Bangladesh's popular telecom operator GP is currently offering GP points to customers for purchasing internet packages. Customers can easily purchase an internet pack (GP internet offer) by using these GP points.
Also, offer: GP Call Rate Offer 2023
Friends Buy GP Monthly Internet Pack and win GP Points. Use GP Recharge internet offers directly to get more GP points. All offers discussed in this post are GP Recharge Internet Offer 2023. You can buy internet offers by directly recharging the specified amount of money.
New and best GP Monthly Internet Pack 

GP Monthly Internet Pack
Dear Grameenphone Internet Offer Users, Several new offers are being noticed in the recently released Grameenphone Internet Offer 30 Days Package.
Currently, Grameenphone internet offers are available on direct recharge starting from 6 GB internet offer to 55 GB for a GP internet pack 30 days period.
GP 6 GB Internet Pack
Currently, if you look at Grameen phone's recharge internet offer list, it can be seen that Grameen phone's official banner offers small internet offers to start from Tk 308 for a period of 30 days.
Recharge Tk 308 to purchase GP Monthly 6GB Internet Pack.
Duration 30 days.
Also has 177 GP points.
GP 30 GB internet offer pack
Grameenphone GP 30 GB internet pack price reduced. Currently, customers can directly purchase a 30 GB internet pack for 30 days by recharging Tk 409.
With this offer, customers are getting 336 GP points.
GP 45 GB internet pack
Many customers know that this GP 499 Tk recharge offer is 40 GB offer, but recently Grameenphone has announced that 45 GB internet will be provided at Tk 499 under the new official banner.
Recharge tk 499 to buy GP internet pack 30 Dyas 45 GB pack.
Duration 30 days.
Also has 410 GP points.
GP 55 GB internet pack
Grameenphone Tk 599 recharge internet offer is a GP 55 GB internet offer. Earlier this offer was announced by GP 50 GB internet pack but now it is offering 55 GB internet.
GP Monthly Internet Pack with Minutes
If you want to use minutes with the internet on your Grameenphone SIM, you can use Grameenphone bundle offers.
At present Grameenphone customers are being offered a lot of offers, in which offers are given together with minutes and internet.
GP monthly bundle internet pack is now more preferred by customers. So all the networks in Bangladesh are currently the winner of the bundle offer.
In line with that, Grameenphone has released some great new bundle offers for a period of 30 days.
GP Bundle Offer List 2023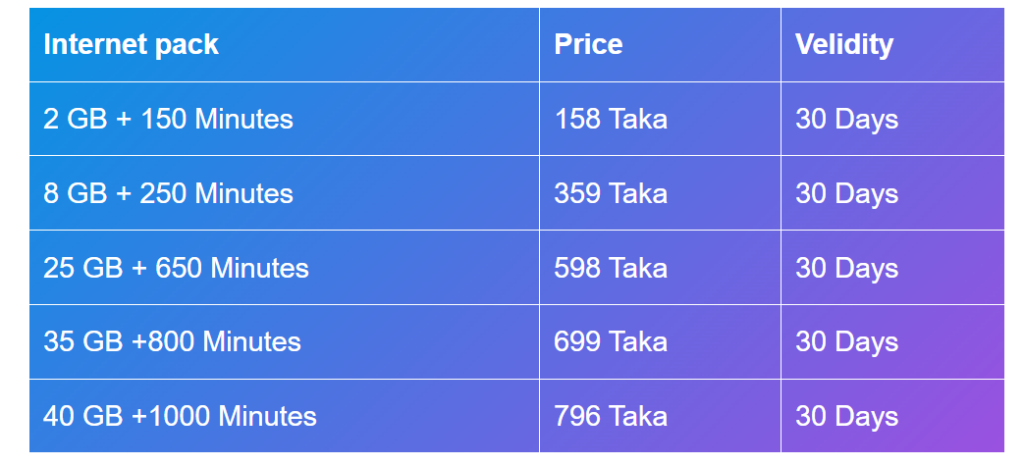 By purchasing the Grameenphone bundle offer, customers can currently enjoy free cinema, gpmusic, cinematic and ZEE TV. So use GP bundle packs mentioned in GP Monthly Internet Pack 2023 post.
GP 158 Taka Bundle Offer
Currently, Grameenphone SIM users can avail the lowest bundle offer of Rs 158 on recharge for a period of 30 days.
Customers are being given 2 GB of internet and 100 minutes for 158 tk.
Duration 30 days.
And with 83 gp points.
GP 359 Taka Bundle Offer
Grameenphone Tk 359 recharge offer is very popular among customers.
However, although the amount of internet in this offer is less, current customers are being given 8 GB internet and 250 minutes. Along with 300 GP points.
How much money is spent in development Free, 14 taka, 15 taka, 18.50 taka?
GP 598 Taka Bundle Offer
Many people search the Internet about Grameenphone 598 Tk bundle offer. For your convenience, the earlier internet offer is 750 minutes but now 650 minutes is being provided.
If you are looking for a Grameenphone internet bundle with 30 days validity, you can buy this offer of 650 minutes with 25 internets. There are 314 GP points for customers. Duration 30 days.
GP 796 Taka Bundle Offer
What if you can buy 1000 minutes and 40GB internet packs on GP SIM in the same recharge?
This great bundle offer is currently running on Grameenphone's GP monthly internet bundle pack list. Recharge tk796 to avail of this offer for 30 days.
How can I buy 30 GB in GP?
Recharge 409 Taka to purchase 30 GB Internet Pack GP as per Grameenphone Internet Offer List 2023. 30 GB of the internet will be provided directly to your GP SIM without any obligation.
How can I buy GB in GP?
You can use the recharge method directly to purchase GB in GP SIM or dial * 121 * 1 * 4 # to buy GP MB.
GP internet offer code?
GP internet offer code is 1211*4#.