Do you know about Airtel Bondho SIM offer 2023? Now Activate Airtel Closed SIM Offer 2023 How to know Airtel off sim offer? Read full post to know all Airtel off sim offers.
Friends, you can use all the offers including minute offer, call rate offer, bundle offer or internet offer on Airtel Bandh SIM. Airtel off sim offer all those offers are available for you now.
Airtel offers unlimited internet and minute packs for its customers.
Not only on closed SIM, new Airtel SIM customers get many good internet offers, so the demand for Bangladesh Airtel SIM is increasing day by day.
So this is our post about Airtel bondho sim offer 2023 on Google search for Airtel customers.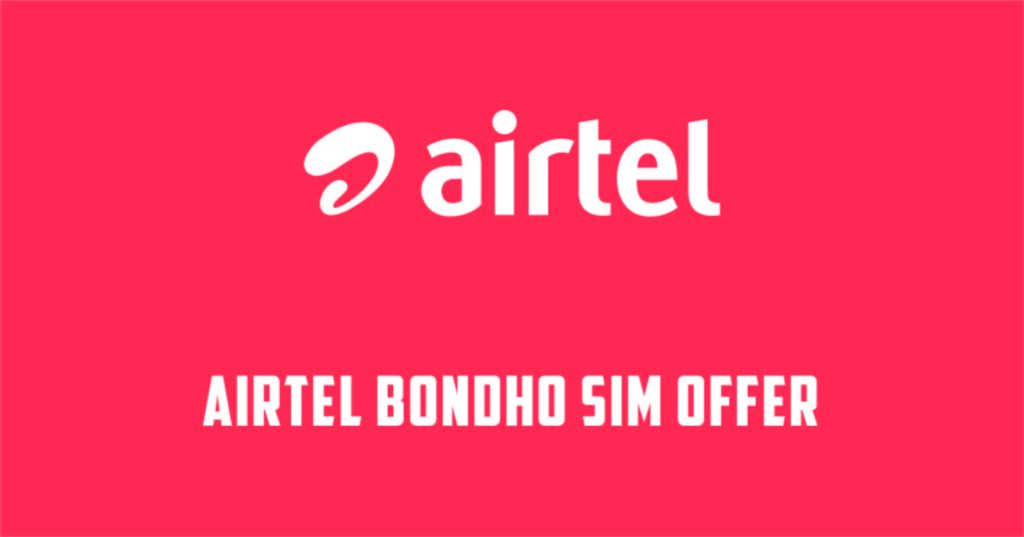 Airtel Bondho SIM offer 2023 | Airtel off sim offer
Dial *999# from your mobile to check Airtel off SIM offer. You can see all the offers of your closed Airtel SIM on the mobile screen.
You can also check your Airtel prepaid SIM offers from Airtel Flexiload Shop to see Airtel prepaid SIM offers.
To know about closed SIM offer from Flexiload Shop, you can know about the offer only by recharging from Airtel Ghaichang Recharge.
Check Airtel Bondho SIM Offer
Customers can verify the Bondho SIM offer easily by dialing a short code. Airtel Bondho sim offer check is * 999 #. If you off SIM are eligible, you can avail the 5GB offer at a recharge of 44 Taka.
Airtel Bandha SIM Offer 2023
Currently, Airtel has 6 different offers on Bandh SIM offers.
In which offer Airtel is providing internet to the customers and in some offer calling rate and in some offer is providing minutes and internet together.
Starting from Tk 18 to Tk 109, all Airtel Bandh SIM offers are very popular among customers. Let's take a look at the Airtel closed SIM offers one by one.
Some offers are one-time only offers. Customers will get some offers more than once.
Friends to receive any offer from Airtel bondho sim offer 2023 list you need to follow Airtel recharge procedure.
Airtel bondho sim offer
Airtel 18 Tk recharge offer
Currently Airtel Tk 18 recharge offer is a closed SIM offer. SIM disabled customers will get 24 minutes and 24 SMS by recharging their SIM with Tk 18.
Duration 7 days. A customer can avail the offer only once.
Airtel 34 Tk recharge offer
Airtel Tk 34 recharge offer is not often seen by different mobile operators in Bangladesh. However, the customer is getting 55 minutes and 30 SMS packs in this offer which is listed in Airtel Bandh SIM Offer 2023.
Validity is 15 days, can be used once.
Airtel 46 Tk recharge offer
Customers who use regular SIM will get Airtel 46 Tk recharge period of 7 days.
But if you are an Airtel off sim offer customer, then you will be given a period of 30 days for Airtel Rs 46 recharge.
In this offer you get 75 minutes and 75 SMS, can be used once.
Airtel 44 Tk recharge offer
Friends Airtel bondho sim offer 2023 is the best among all the offers that Airtel is offering to customers.
Customers of this offer are getting 5GB internet with 45 poisa/minute call rate offer for 30 days.
To activate the offer, you recharge your Airtel SIM by Rs. 44. All can be used once.
Airtel 43 Tk recharge offer
Airtel bandh sim offer 2023 customers will get 4 GB internet and 40 minutes talk time for 43 taka recharge.
Customers will get 3GB regular and 1GB 4G internet from the 4GB internet of this offer.
You will get only Tk 43 in recharge for 5 days, but you can use it multiple times.
Airtel 109 Tk recharge offer
Many of us know about GP 109 Taka recharge call rate offer. However, Airtel Bandh SIM Offer 2023 is not giving call rate offer of Tk 109 to the customers for a period of 30 days, minutes and internet.
From Airtel BD off sim offer, customers are getting 100 minutes, 5GB internet (4GB regular + 1GB 4G internet) and 100 SMS pack.
Customers can purchase this offer multiple times for a period of 30 days.
Airtel Bondho sim offer call rate
Friends Airtel Off SIM offer has only one call rate offer. Airtel 44 taka recharge closed SIM customers are getting 45 paisa minute call rate offer. This offer will be valid for 30 days.
Airtel Bondho sim offer Terms & Conditions
Dial * 3 # to check airtel internet balance.
Internet can be used on both 4G, 3G and 2G networks
Airtel rate cutter has 1 second pulse.
Eligible customers can also check their offer by dialing *999# on their SIM.
Unused internet will not be extended.
In conclusion,
Hope you got to know about Airtel bondho sim offer 2023. If you want to know more about this, visit the Airtel Bandha SIM Offer page. Comment us if necessary.
Comment to know about mobile banking services, SMS offers, call rate offers, internet offers and minutes offers.
Stay with us to get money income online at home, telecom offers, mobile banking service offers and accurate information from internet.
Join our Facebook page.