GP 20 Minute offer is our today's topic. In this post, we are explaining Grameenphone 20-minute offer pack. If you are looking for 20 minutes offer on your GP SIM then you are in right place.
Grameenphone customers can currently purchase the GP 20 minutes offer using the recharge method. But if you want to buy grameenphone GP minute pack on direct recharge then you have to recharge 14 rupees you think 21 minutes.
Many customers know this other as GP 14 Taka recharge offer. However, previously Grameenphone was providing 25 minutes for Tk 14 recharge to customers, but currently, it is providing 21 minutes.
If you want to use 20-minute pack on Grameenphone SIM, you have to dial GP 20-minute offer code and buy it.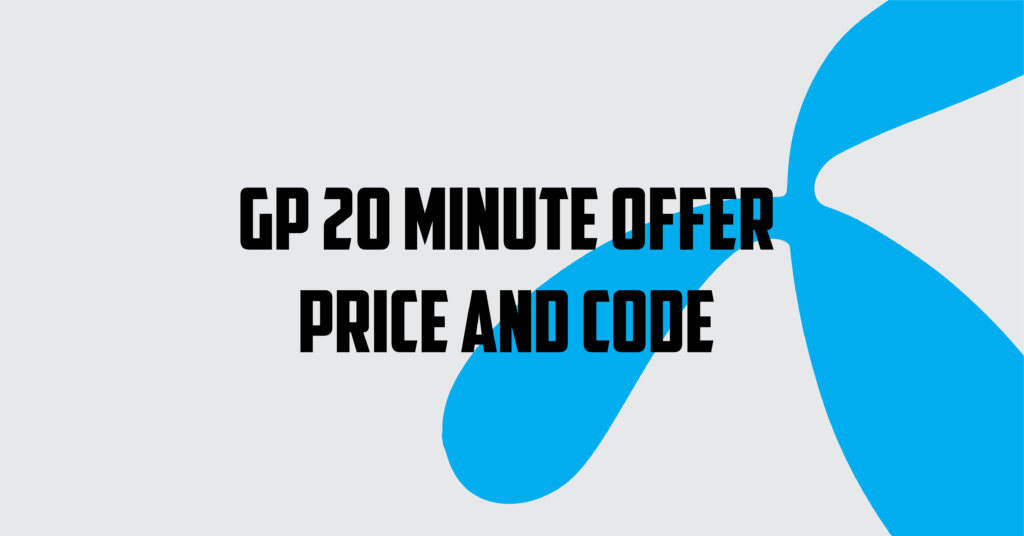 GP 20 Minute Offer Code – জিপি ২০ মিনিট অফার কোড
Currently, you can buy any minute pack and talk to all other operators including Grameenphone.
So you don't need to buy different minute packs to talk to other operators.
GP 20 Minute offer Code is *121*4001#. If you don't work this code please open your dial pad and dial *121*4#. You can see the whole list of GP minutes offered. In this list number 2 position is GP 20-minute pack.
According to the GP minute offer list 2023: the GP 20-minute offer price is 12.20 TK. If you have sufficient balance on your Grameenphone sim please select 2 options.
GP 20 pack price is 12.20 Taka.
Validity 16 Hours.
Talk to any operator all over Bangladesh.
That is, if you don't want to purchase the 20 minute offer by directly recharging your Grameenphone SIM for Tk14, then you have to use the Grameenphone Minute Offer code to purchase the 20-minute pack.
Many people have problems with the 20-minute offer code mentioned by Grameenphone, so they are telling you another shortcut to purchase the minute offer of Grameenphone SIM.
First you dial *121*4# from Dial Pet on your mobile.
A complete list of GP minutes offers will appear in front of you, the list includes 20 minutes pack in option number 2#.
Officially Grameenphone 20-minute offer price is set at Tk 12.60.
Duration 16 hours.
The minutes can be used to talk to any operator in the country.
| | | | |
| --- | --- | --- | --- |
| GP Offer | Price | Activetion Code | Validity |
| 20 Minutes | 12.60 Taka | *121*4001# | 16 Hours |
GP 10-minute pack price and code
Terms of Grameenphone 20-Minute pack:
To avail of the GP 20 minutes time offer, eligible customers need to dial the activation code *121*4001#.
By purchasing the offer, customers will get 20 minutes (to talk to any local operator from GP).
Minutes expire 16 hours from the time of purchase.
At the end of the specified period, if a customer has any remaining minutes, they will be forfeited.
If you purchase the GP 20 minutes offer again using the same method within the validity period, the minutes will be added and valid from the new purchase period.
The customer needs to dial *121*1# to check the remaining GP minutes balance.
This Grameenphone 20 minutes offer is not applicable to Skitto SIM users.
Conclusion,
Hope you got to know about GP 20 Minute offer and Grameenphone 20-minute pack code.
You can comment to us to know the purchase details of GP SIM's 20-minute offer and all other minute offers.
Join our Facebook page to get updates about ongoing mobile banking offers, SIM minutes, internet, call rates, and bundle offers in Bangladesh.