Today I will tell you about the popular telecom operator Grameenphone balance check code in Bangladesh. Many people call Grameenphone Telecom Operator by its short name GP. Many people search again on Google about GP SIM balance check code.
Whatever your search keyword is, your main objective is to know how to check Grameenphone balance. By prioritizing your Google search, today we will tell you about all the methods to check your GP SIM minute internet balance.
Every telecom operator including GP in Bangladesh provides USSD code to their customers to check their balance. By using USSD code customer can know about his main account balance in very short time
Grameenphone Balance Check Code How much – How to check GP SIM account balance
Grameenphone balance check code is *566#. To check GP SIM balance you dial *566# from your mobile dial pad. If the GP SIM network you are using is active, you will get the original account balance by dialing the GP account balance check code.
Learn More:
Apart from the balance member, you can also know about the balance expiry of your main account by using the GP SIM dial code.
Hopefully you can easily check GP SIM balance using this code.
Also, if you are using Grameenphone My GP app, after downloading the app from Google Play Store and entering the app with your GP number, you will know about the current balance and balance period of your mobile SIM on the dashboard screen.
All important codes of Grameenphone SIM card
Grameenphone provides different USSD codes to customers to check Minute Balance Internet Balance SMS Balance.
Basically in this post we have provided you Grameenphone main account balance check code.
For your convenience we have created a table of other Grameenphone USSD codes that you can keep in your collection and use whenever required.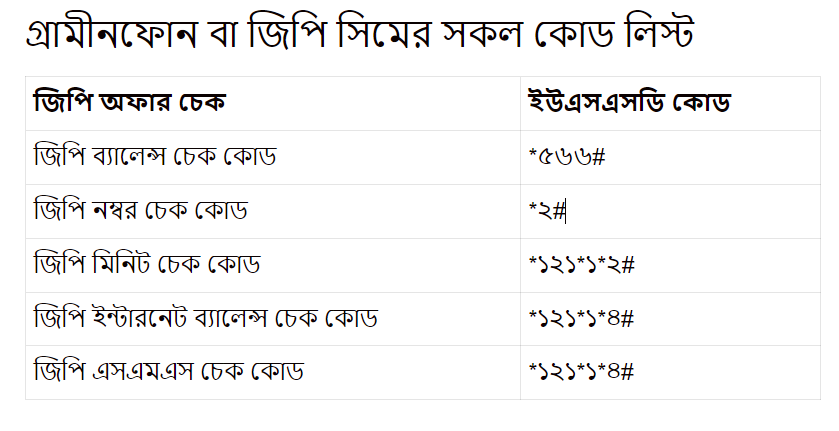 GP Postpaid Balance Check Rules
To check Grameenphone or GP post-paid SIM main account balance, please write "BILL" from the write massage option and SMS to 4777.
You can check your GP postpaid balance for free without any charges.
GP Internet Balance Check Code
GP SIM internet users are more searching for their MB balance check code. GP MB or internet balance check code is 1211*4#.
How to check Grameenphone balance?
Dial *566# to check Grameen or GP SIM balance.