Dear readers, many of you search on Google to know about Grameenphone SMS purchase code. Through today's article, I will try to discuss with you in detail about Grameenphone SMS purchase code.
Many of you don't know how to buy messages using Grameenphone SMS purchase code.
So in today's article, we will try to discuss it in detail.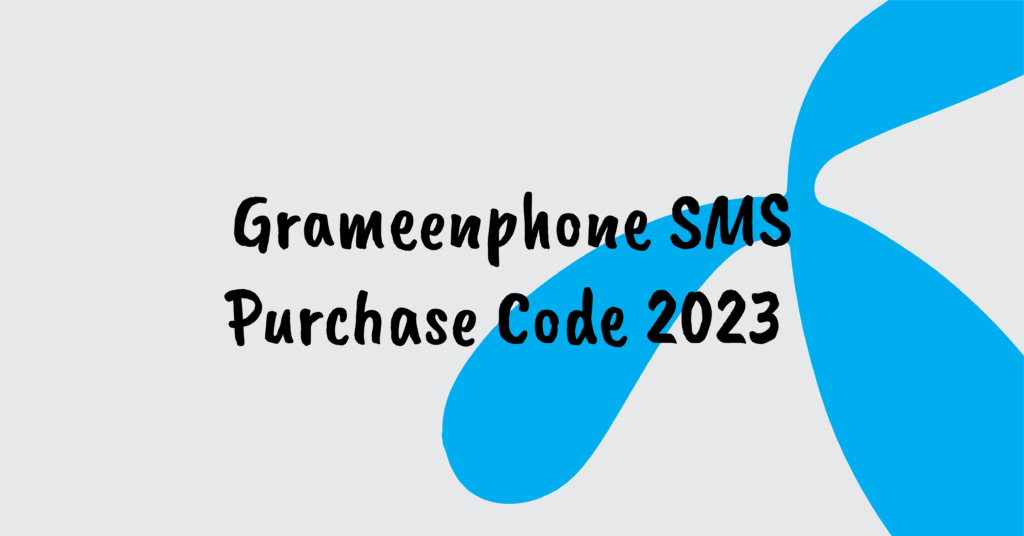 How you can buy SMS using the Grameenphone SMS purchase code and other Grameen codes in this article I will try to present to you.
How to buy SMS on Grameenphone
Basically, you can buy Grameenphone SMS in two ways.
You can buy SMS using Grameenphone SMS purchase code or you can easily buy SMS from My GP app.
If you have a smartphone in your hand then surely you can easily purchase SMS from apps through an internet connection with that smartphone.
Please note that SMS must be sent to different numbers using different codes.
That is, you have different usage requirements for how many SMS you want to purchase for how many days.
You will be given some over SMS purchase codes and how you can purchase SMS through apps will be explained in detail in this article.
But first we will try to know how many SMS you will get using any of the money.
Gp SMS Pack 2023 with Code
To buy grameenphone sms pack you have to choose the offer according to your budget. Below is the Gp sms pack with code:
GP 2tk sms pack:
25 SMS is available on Gramin SIM for 2 taka.
gp 2tk sms pack offer is valid for 3 days.
To buy this pack dial- 25 SMS (3 days validity) (to any number) for Rs 2 only * 121 * 1015 * 2 #
GP 100 SMS Pack
To buy GP 100 SMS pack dial *121*1015#.
This offer is valid for 4 days. GP will deduct Rs 7 to buy 100 SMS Pack.
Gp 100 SMS pack To activate this offer, dial * 121 * 1015 * 1 #.
Gp 100 SMS pack offer expires 04 days.
Gp 100 SMS pack price of this offer is Rs.7.
Must use 100 SMS Pack (GP-GP).
This offer is inclusive of VAT
Gp 100 SMS pack you can buy multiple times.
Gp 100 SMS pack This offer is applicable for all GP customers.
GP SMS Pack 2023
GP 25 SMS Tk 2, validity 3 days. Dial Code *121*1015*2#
GP 200 SMS Rs 5, validity 5 days. Dial Code *111*10*6#
GP 500 SMS Tk 19, validity 30 days. Buy from the Flixiplan app.
Rules for buying Grameenphone SMS through
You can easily purchase Grameen Phone SMS from My GP app.
Of course, you should search for my gp apps from Google Play Store and download the apps.
Once downloaded, login to the My GP app using your Grameen SIM number and set a simple password.
After login to My GP app you will see different categories for all offers.
There is a separate category for buying messages from where you can conveniently buy messages of any value.
From there you can easily purchase Grameenphone SMS and must read those SMS facts.
Because there are many sms packs which can only be used on Gramin to Gramin SIM.
Again there are many SMS packs that you can use on any SIM. So it is important to check the conditions before purchasing the SMS.
Conclusion
Readers, you have read this article completely today to know about Grameenphone SMS redemption code.
Hope you like today's important article and you got to know Grameenphone sms purchase code and how to buy sms very easily from this article.
If you have any question or opinion related to today's article, don't forget to let us know through comments.
Those of you who want to earn money online from home and want to post different types of informative articles visit our website.
Be the first to get all the updates related to our website, visit our official Facebook page.