Robi new sim offer 2023 now provides their customers widespread 4.5G network of Bangladesh. Yes you heard right Robi new sim offer 2023 now you can get 4.5G speed internet. In addition to 4.5G speed, Robi New SIM Offer gives you excellent all-minute internet and call rate packages.
Robi Special New SIM Offer is now giving free internet up to 12GB to customers. Along with that Robi 1GB free data activation bonus is available.
For instance, Robi 42 TK special recharge offer provides a lot of the pack is the same recharge. Let's take a look at Robi's new SIM offers.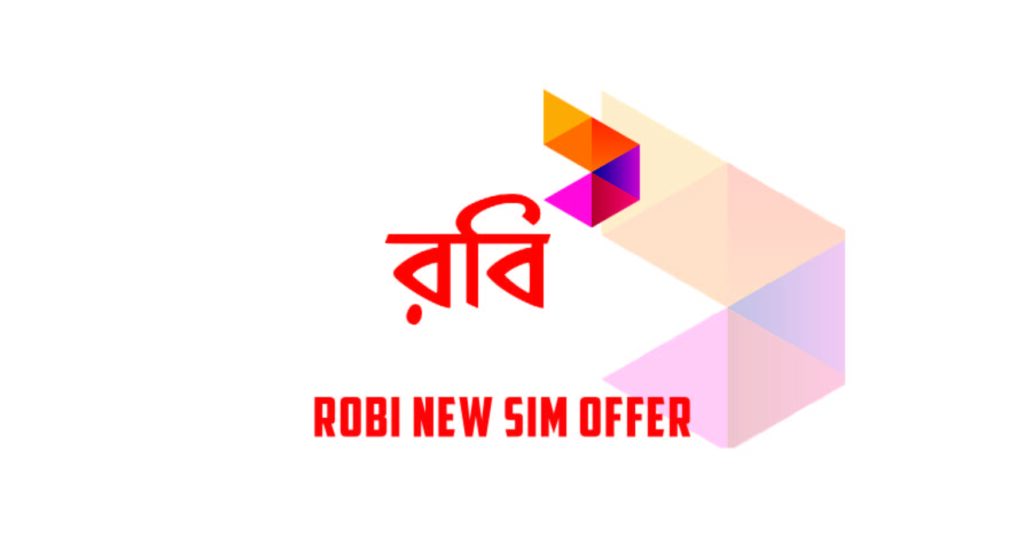 Robi new sim internet offer 2023 – রবি নতুন সিম অফার 2023
On behalf of Robi, it is said that Robi always tries to give its customers the best offer on new SIM cards. According to that context, currently Robi New SIM Offer is giving 12 GB of Internet completely free to the customers at the rate of 1 GB per month.
I have seen the best new SIM offer in the country 2023, which you can know only after reading the complete post.
Robi Special New SIM package
Get 1GB free data for next 12 months with a new Robi SIM activation now, absolutely free! But with robi it is possible.
Because to get Robi new sim 1GB FREE internet offer the sim has to be used regularly.
How to get Robi 1GB free Bonus
Robi new SIM customers will get 1GB of free internet every 30 days for the next 11 months, after spending a minimum of Rs. 50 per month on their SIM.
Robi SIM Activation Bonus
Customers will get 1GB free internet instantly when Robi new SIM is activated.
Robi New SIM Offer 2023 Details
So far I know about your Robi new SIM offer, need to tell some more details about this. Because you must know the things before buying a new SIM.
Robi 42 TK recharge offer
Friends, I have already told you that Robi new sim offer 2023 is now 42 taka in the new sim, customers will get a lot of things together.
Robi 48 paisa minute Special Rate Offer are included with 42 TK recharge.
Your main account will have a balance of Rs.34.
Get 2GB internet, 7 days validity.
Get 8 minutes to talk on any network with 7 days validity.
There is also a 48 paise/minute call rate offer, for 30 days to any number in the country.
Robi 48 GB offer 12 months
1GB 4G with 7 days and 1GB Facebook for 30 days for 23 Tk. Can be used maximum 1 time in every 15 days.
According to the above calculation, you can use 2 GB per month and 48 GB internet in 12 months under this offer.
In addition, with Robi new SIM you get 250 MB Facebook data for 30 days at just Rs 9. The customer will get the offer as many times as they like for 9 Tk recharge within the next 12 months from the time of SIM purchase.
Robi New SIM 48 paisa/min call rate offer
42 taka first time recharge on new SIM customers will get:- 48 paisa/min on any operator number valid for 30 days.
Sunday Special Rate:
Robi default call rate is 2.33 paise/per 10 seconds.
But the 47 paise/minute call rate offer charges you 47 taka to talk to any number. Duration 15 days.
Regular customers other than new SIM get 7 days validity, but you will get 47 paisa minutes offer for 15 days validity for up to three months on your new SIM.
In addition, Robi new SIM customers can avail the 50 paise/minute call rate offer on a recharge of 29 taka. You can use this offer as many times as you want within three months after the purchase of a new SIM for a period of 30 days.
Rabi Conditions:
You can use the internet at any time of the day (24 hours).
Robi Internet Offer Check Code: *3#
In conclusion,
Friends hope you got the right information about Robi new sim offer 2023. Stay tuned to know more about Robi new SIM offers.
Join our Facebook page to know about all the offers.