Today I will tell you about Robi internet package recharge offer 2023. Robi SIM customers are seen doing a lot of google searches about Robi recharge internet offers. Robi customers also want to know how they can easily buy internet minutes together with Robi SIM.
Robi internet offer We have previously made another post about Robi internet offer. But there we told you about Robi all internet offers.
For instance, in this post you can know about all recharge internet offers of Robi SIM.
Friends you can take many methods to purchase Robi internet package recharge. Among them, the most popular method is the recharge offer.
Firstly, because Bangladesh mobile operators launch different packages from time to time, but by purchasing recharge offer from Flexishop, you can determine the right offer and purchase the offer of your choice.
So you need to know a little bit about Right Robi internet package recharge.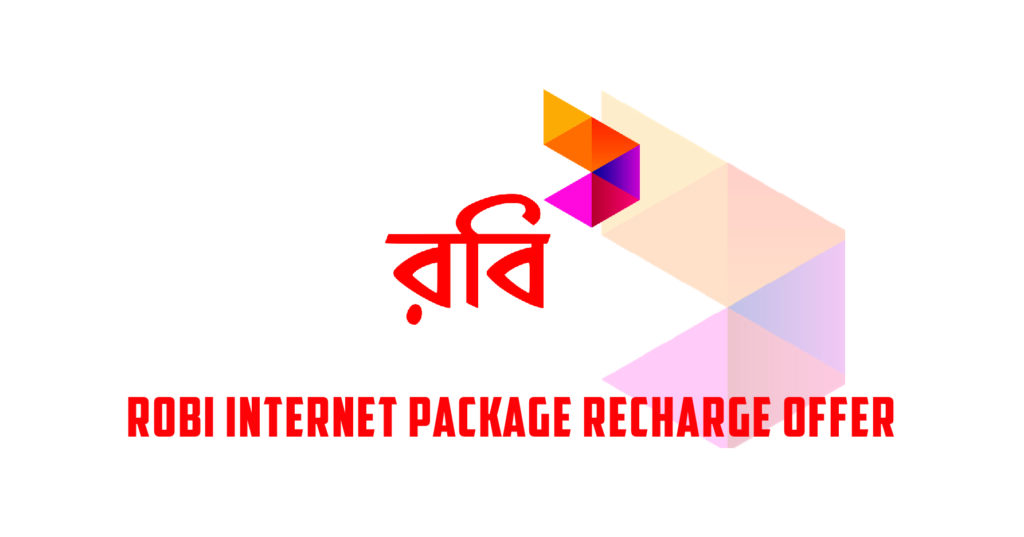 Robi Internet Package Recharge Offer 2023 | রবি রিচার্জ ইন্টারনেট অফার ২০২২
Friends, in this post we will try to give you internet offers in three different tables about Robi SIM recharge internet offers.
The offers you get in the first table are basically the official offers for customers.
Currently, if you look at the Robi banner, you will see that there are five Robi recharge internet offers for three days.
And there is an internet offer for only seven days. And there is a 30 days only internet offer.
Robi recharge net package 2023
Recharge TK
Internet
Activation code
Validity
32 TK
1 GB
–
3 Days
38 TK
2 GB (1GB+1GB 4G)
–
3 Days
57 TK
3 GB
–
3 Days
69 TK
4 GB
–
3 Days
76 TK
6 GB
–
3 Days
114 TK
10 GB
–
3 Days
114 TK
10 GB
–
3 Days
But friends don't worry if you read the complete post you can find more Robi net packages from Robi internet packages here which we have published for you from Robi official website and Robi SIM.
Robi 1GB package | Robi 1GB Pack
Currently, Robi customers have to recharge 32 taka to get 1 GB internet directly on Robi SIM recharge. This robi 1GB Rrecharge internet package offer is valid for 3 days.
Robi 2GB net package | Robi 2GB Pack
Robi customers can now use 2 GB internet on their Robi SIM at a cost of 38 taka.
To purchase this Robi recharge internet package you need to directly recharge 38 rupees.
Robi 2GB recharge internet package offer gives customers 1GB regular internet and 1GB 4.5G internet.
Duration 3 days.
Robi 3GB package | Robi 3GB Internet Pack
The most popular net offer of Chalman Sera Telecom Grameenphone SIM in the country is 57 Tk 2GB internet offer, almost all Grameenphone internet users are aware of this offer.
Recently Robi recharge internet packages 2023 has now brought to customers a 3GB internet pack for 57 taka recharge. Duration 3 days.
Robi 4GB package | Robi 4 GB Internet Pack
Friends, there are many short term internet packs in Robi SIM. Robi 69 taka recharge net pack is such an offer. In this offer, customers who spend 69 taka are getting 4 GB internet, for a period of only 3 days.
Robi 6GB package | Robi 6 GB Internet Pack
Mobile telecom operators in Bangladesh tend to give small packs. In short, customers are being cheated with short term packs.
Because less term is being given but a lot of data is being given, which the customer cannot finish using.
However, now Robi customers are getting a Robi recharge internet package on one of their SIMs, where they are getting 6GB of internet for just 69 rupees recharge.
Its validity is only 3 days.
Robi internet package 7 Days
Regular Robi Internet Offer 2023 list has many offers for customers. But if you think about the recharge internet offer, there is only one 10 GB internet offer.
Robi 114 Taka recharge offer:
Currently there is a Tk 114 recharge internet pack for Robi customers. However, more internet is being given in this Robi offer than all other operators.
You can recharge Tk 114 to get 10GB internet offer on Robi SIM.
You can also purchase this offer using mobile banking services from any mobile banking apps.
You will get 10 GB net without any conditions.
Duration 7 days.
Robi internet package 30 Days
Friends, for the convenience of informing you, we are again informing you that Robi has many recharge internet offers for customers for a period of 30 days.
But Robi Internet package list is showing only one offer. But most of the internet offers have now turned into Robi bundle offers.
To wait for that you need to recharge Rs 349. You will get direct 30 GB internet for 28 days period.
Robi internet package 1gb 7 days
Friends currently regular Robi internet offer 7 days period no Robi 1 GB internet offer is running.
However, Robi gives special internet offers to SIMs included in Robi Amar offer at different times for their customers.
You can easily buy 1 GB offer at low price from Robi My offer. Here Robi is not only small internet package, but many big offers and customers are informed at low price.
Robi Amar offer How to Check Robi My Offer
You can check Robi SMS on your mobile regularly to know about Robi My offers.
Or you can check Robi Amar offers by dialing *888# from Robi SIM.
In conclusion,
Hopefully, you got the right information about Robi internet package recharge 2023. Stay with us to get updated information about Robi Recharge Internet Package 2023.
Visit our blog to get regular updates about country's telecom operator minutes, internet, SMS, call rate offers.
If you like the post, like it, join our Facebook page. thank you