GP 1GB Offer Internet price has been increased again! Why 2023 GP 1GB Internet Offer Price Increase Again Why this suffering of the customers, the Grameenphone authorities have reduced the amount of internet data given in many internet offers besides repeatedly increasing the price of internet offers.
Grameenphone internet pack prices are much higher than other telecom operators. Although Bangladesh Telecommunication Authority has been saying for a long time that the price of internet offer will be adjusted in all telecoms.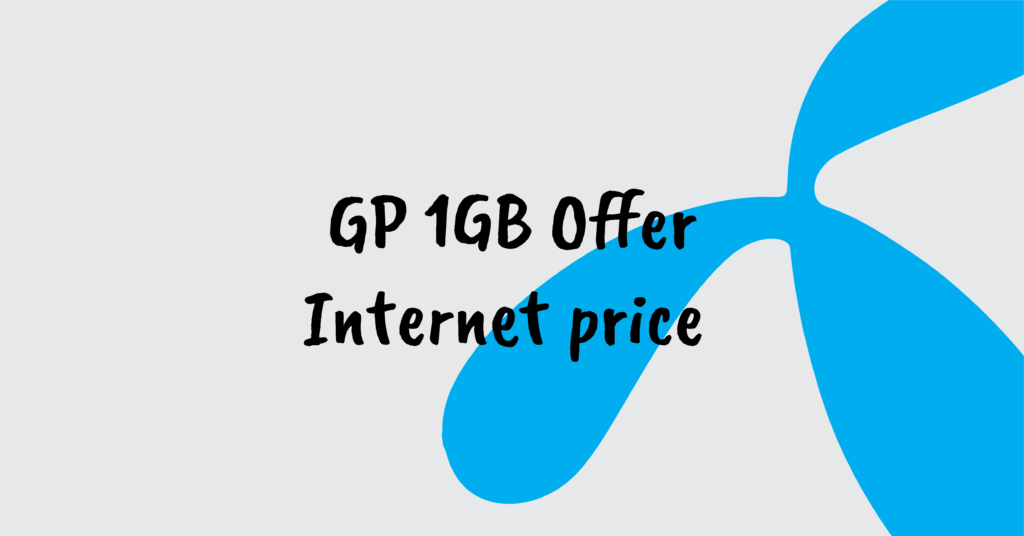 GP Telecom is conducting its activities without considering the regulations of Bangladesh Telecommunication Authority.
The sale of Grameenphone Telecom has been stopped a few days ago due to violation of government policy, I think GP Telecom has increased the price of their internet packs and reduced the amount of data in various internet offers to collect the loss money from the customers in SIM sale.
How much is GP 1GB Offer Internet 2023?
In this post we will mainly discuss about GP 1GB regular internet offer.
Apart from the regular offers, GP regularly informs its customers about various small low cost promotional internet offers to encourage their customers to use the internet.
Those promotional offers are not applicable to all, those customers who have been informed about the offer through SMS, only they can use those GP Grameenphone 1 GB Internet offers.
Current Market Price of GP 1GB Internet Offer 2023
In the beginning of 2023 GP 1GB Offer Internet price was Rs.36. Later, Grameenphone offered 1.5 GB internet for a few days at Rs 38.
GP 36 Tk 1 GB Internet Offer After running for a few days again, an internet offer of Tk 43 1.5 GB is given to the customers.
After this offer started for a few days, Grameenphone started giving the offer as GP 1GB offer at Tk 38.
Recently the recharge price of GP GP 1GB internet offer has been increased. Currently GP 1gb internet offer regular price is fixed at Rs.43.
That is, if you recharge your GP SIM for 45 taka, you will get 1 GB internet. Robi and Banglalink SIMs are still giving 1 GB internet to customers for 36 taka.
There Grameenphone is offering 1GB internet for 43 Tk in regular pack for 72 hours.
GP Internet Offer 1GB 7 Days
There are many Grameenphone SIM users who are still googling about GP 1GB internet offer at low price.
Already you have come to know that GP Regular Internet Offer 1GB Internet Pack is priced at Rs.43.
All the GP 1GB internet offers below Tk 43 are not regular offers.
Only those customers who have been notified by Grameenphone authorities about such offers through SMS can only avail these offers.
GP 1GB Internet offer Price?
GP 1GB Internet Offer price in 2023 is 43 Taka.
How can I buy 1GB of the internet in GP?
Can you buy 1GB of the internet in GP please Recharge 43 Taka. You get 1 GB of internet for 3 Days (72 Hours).
What is the price of GP 1 GB Internet offer?
In 2023, GP 1GB internet offer price is Tk 43. GP SIM will be given 1 GB internet for 72 hours on recharge of Tk 43.
How to purchase GP 1 GB Internet offer?
Recharge Rs 43 to purchase GP 1GB internet offer or purchase from My GB app.
conclusion,
Hope you got to know about GP 1GB Offer Internet price, code and velocity.
If there is any change in Grameenphone Telecom Company's internet offer, we will try to inform you about the change as soon as possible.
Stay tuned with us to get updates about minute internet call rate offers of all telecom operators in Bangladesh including Grameenphone.
Regularly visit our website to earn money online at home and get accurate information from the Internet.
Join our Facebook page.