What is the Gp 109 Tk recharge offer?
Friends, today we are going to tell you about an excellent recharge offer of GP SIM, the best Grameenphone telecom operator in the country.
The number of GP SIM users is high in Bangladesh. A large number of users include many who regularly recharge their SIMs, but are unaware of the recharge call rate offers.
Grameenphone Tk 109 recharge offer is such a convenient offer, by using this offer, the customer will get the lowest call rate for a period of 30 days and can talk to any network number in the country at one rate.
But many people have a question what is the difference between 109 takas and 100 taka recharge? Friends, there is a difference, there is quite a difference because the default call charges of the operators operating in Bangladesh are currently around Tk 1.50. Operators may vary.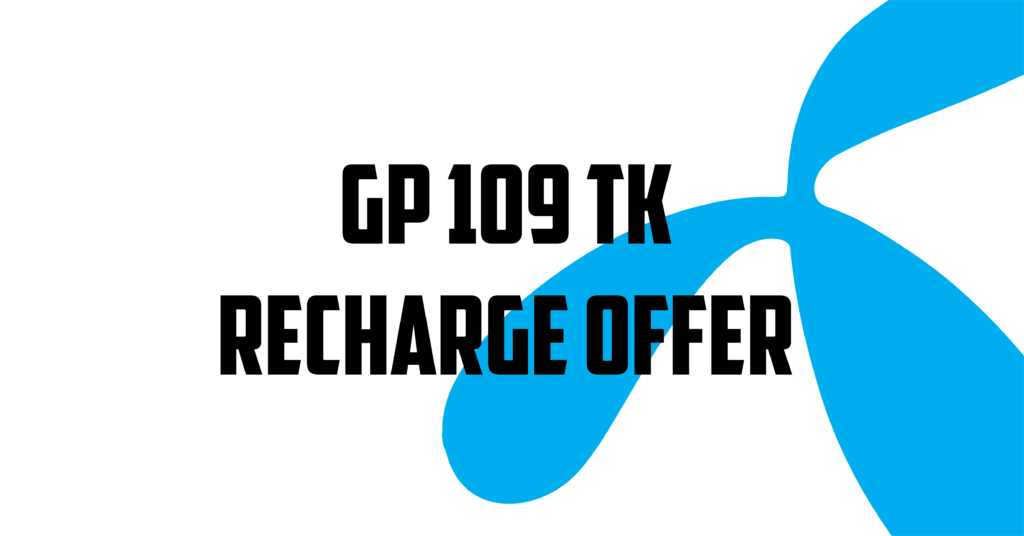 Why would you use this default call rate if you have a fixed amount of talk time per recharge?
Now you are getting only 1 paise per second call rate from GP but you must use this offer.
Gp 109 Tk recharge offer – GP lowest call rate package
GP 109 recharge offer is one special call rate offer for Grameenphone BD. if you can buy this offer you can call for the whole month for 1 paisa per second call rate on any network all over the country. I think all of you know about GP 109 Taka pack.
If you ever want to recharge Rs 100 on Grameenphone SIM, recharge 109 instead.
Suppose you don't need the Gp 109 Tk recharge offer, but you do.
No problem because your 109 takes will be on your mobile, and you can use that money for any kind of minutes and internet purchases.
Whether you buy internet, buy minutes, or buy SMS. However, your voice call rate offer will remain active for one month.
Your offer will continue and your talk costs will be reduced regardless of whether you recharge Rs 10 to Rs 20 at any time during the month.
So if you try to recharge 100 takas and then recharge 10 taka home to 109 takas, that will get your benefit and you will be profitable.