Today I will tell you about GP 99 Tk recharge offer. If you want to know about GP minute offer 7 days pack 2023, then read this post. Currently, Grameenphone is the best mobile telecom operator in the country. Grameenphone offers a large number of GP recharge minutes offers for their customers with different durations.
Grameenphone has about 75 million subscribers. The main reason for this is that Grameenphone offers its customers excellent minutes, internet, and SMS packs.
One such offer is the GP 99 Taka recharge offer, which has been used by GP customers for a long time.
In this article, we are going to discuss GP 99 Taka minute offer. GP 99 Tk recharge offer is a minute offer.
So, if you are looking for any GP minutes pack underTk100, you can avail of theTk99 150 minutes offer.
Earlier GP was offering 175 minutes on Tk 99 recharge to customers, then GP changed to Tk 99 160 minutes offer in Q1 2020.
And currently, GP 99 Tk recharge offer is giving 150 minutes for 7 days period.
In addition to the GP recharge scheme, customers can also purchase the Tk 99-minute offer using the activation code.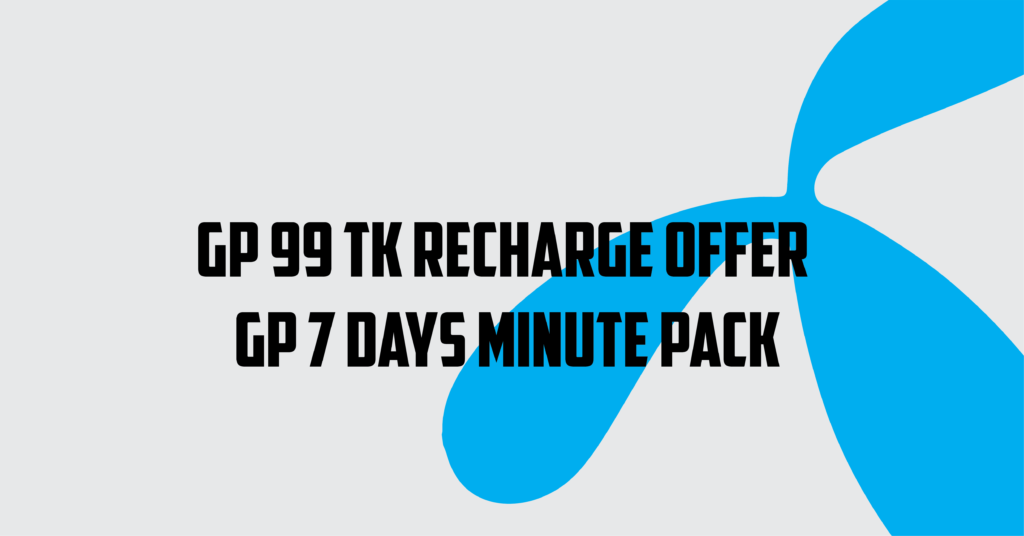 Gp 99 TK recharge offer | GP 99 Tk Recharge Minute Offer
| | | | |
| --- | --- | --- | --- |
| GP Minutes | Amount | Validity | Activation Code |
| 150 Minutes | 99 Taka | 7 Days | *121*4006# |
Gp 99 TK Recharge Offer
At one time GP was providing 300 minutes to the customer atTk99-minute offer. However, after accreting to all operator numbers in Bangladesh Telecom services, customers are currently getting 150 minutes for Tk 99.
That means now you can call all operator numbers forTk99 for 150 minutes, which was not possible earlier. Earlier you could only make calls to GP to GP numbers using the GP Minutes offer.
But Gp 99 TK recharge offer validity is still 7 days as before.
To avail of GP voice offers you must recharge a certain amount of Rs. Of course, to activate the GP 150 minutes pack, only a 99 taka recharge is required.
How to activate GP 99 taka 160 minutes offer?
GP recharge system is the easiest way to purchase GP minutes offer. If you want to activate GP 99 Taka 160-minute offer then you can use Activation Code *121*4006#.
The activation code procedure is quite hassle-free. Remember GP 160 minutes code *121*4006# if necessary.
GP 99 Tk 150 min offer terms
The GPTk99 recharge offer is available to all GP Prepaid customers.
Offer not valid for Skito customers.
GP SIM users can redeem the offer by dialing the code *121*4006#.
GP can check your remaining talk time by dialing Minute Check Code * 121 * 1 * 2 #.
10-second pulse is still on offer.
GP may change the offer at any time without any prior notice.