About GP New SIM Offer 2023 Today
I will discuss new GP SIM offers with you in detail. Grameenphone officially publishes GP new offer and update on their website. We will tell you the information we got from the website and GP SR about Grameenphone's New SIM Offer. GP customers are now getting great internet offers just by purchasing a new connection.
GP New SIM Internet Offer GP 1 GB pack up to 19 Taka with purchase of a new Grameenphone SIM.
Moreover, you can get a lot of things by recharging the first 34 takes in GP new SIM. But GP 34 recharge offer is not a regular GP SIM offer.
GP customers get a free 1GB internet pack on the purchase of New Grameenphone SIM. Moreover, GP is offering 1GB of internet for justTk17 to new SIM users. Gp 1 GB 17 Taka offer, this offer is available for all new GP customers, valid for 7 days.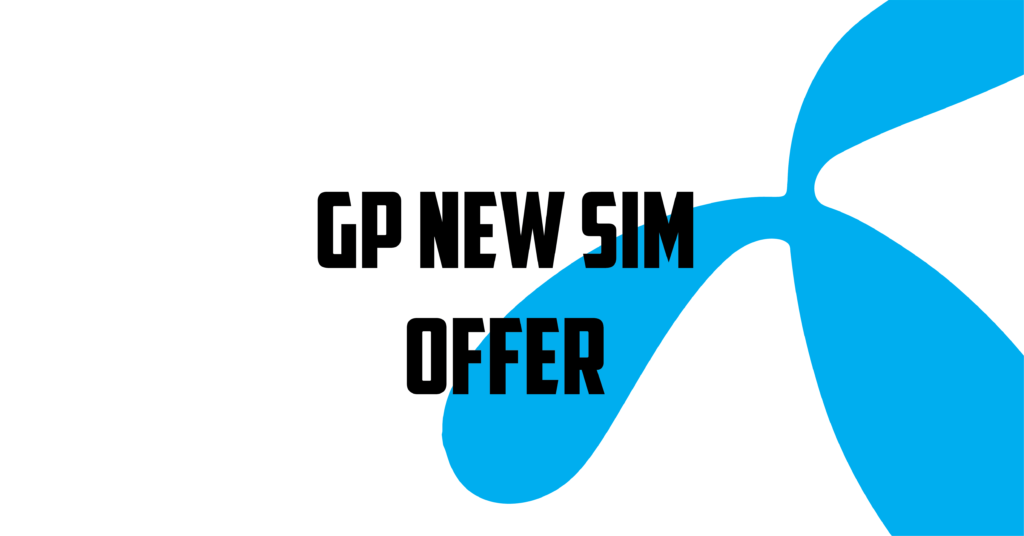 GP New SIM Offer 2023 | GP New SIM Offer
Good news for Grameenphone new SIM customers! All Grameenphone new SIM customers will now get a great internet offer of up to 1 GB and a new great Gp minute offer and an MMS offer forTk19.
You can know GP New SIM offer details from here. The details of this offer are given below-
GP New SIM Offer List
Details Data Price Data Offer Validity
First Recharges 34 Taka 1GB + 1 Paisa Second + 2 MMS 7 days
Second Recharges 66 Taka 110 Minute + 2 MMS 30 days
1GB Internet 17 Taka 1GB pack 7 days
GP New SIM First Recharges
Friends, GP New SIM 34 Tk Recharge Offer is recharged in many cases from where you buy the SIM with the price of the SIM. But in most cases, this is the case.
However, in some cases, the customer is asked to recharge this amount.
But you will be told all the information from the place where you sell the new SIM or you try to know all the information yourself.
You will get the following offers only once after purchasing a new SIM and after the first recharge of Rs.34.
You get 1GB of internet, and 2 MMS, valid for 7 days.
All new SIM subscribers will get a call rate of 1 paise per second for 30 days and can talk 24 hours a day (to any local operator number).
After GP New SIM Offer 34 TK recharge pack expires, customers can enjoy regular packages again.
Dial * 121 * 1 * 2 # for GP New SIM Internet and Bonus Time.
All customers can enjoy these offers only for the first time. 34 will not be applicable on subsequent recharges.
GP Second Time 66 Recharge offer
Friends, the GP child money second-time recharge offer is in many cases recharged by the shopkeepers in coordination with the purchase price of the SIM.
But if you know about it well before purchasing the SIM, then you can enjoy all the offers properly.
The customer will get 110 minutes for 7 days after doing the second recharge of GP new SIM 66. And can enjoy 2 MMS.
Customers can avail of this offer only once. Any GP new SIM customer can avail of the Tk 66 recharge offer once.
No regular sim has this offer.
GP New SIM Special Bundle Offer:
RechargeTk119 to get 100 minutes (to any local number), plus 2 GB internet (1 GB + 1 GB 4G internet) and 2 MMS validity of 7 days.
This offer can be availed only by GP New SIM Offer.
GPTk119 offer to be activated by recharge from Flexi load SIM.
GP 1GB 17 Taka Offer
New SIM Offer 17 Taka pack! Especially GP new sims are more sold or more sold for their 1GB 17 Taka pack offer.
This offer has been availed a total of ten times after a customer buys a new SIM.
With the first recharge of Tk 34 once and after that, you will get 1 GB of internet for the next 9 months by recharging at Tk 17 every month.
GP 17 TK 1 GB internet pack, validity 7 days.
Offer can be redeemed a maximum 1 time per month on a new SIM.
To buy the offer dial * 121 * 1111 # every month, or rechargeTk17 from GP FlexiSIM.
GP 2GB 17 Taka Offer
After purchasing a new SIM, if the customer downloads the MyGP app and 2GB of the internet will be given from the MyGP app for 17 takas.
MyGP App New SIM Offer 17 taka 2GB internet (1 GB + 1 GB bonus).
Customers can buy this pack only once from gp new sim offer 2023.
But customers can buy gp 1GB 17 Taka offer 9 times.
GP 2GB Tk 17 internet offer valid for 7 days.