Welcome to Banglalink Minute Offer Post. Friends, many of you know that Banglalink is a popular telecom mobile operator in Bangladesh. Looking at Banglalink minutes packages at low cost, customers' searches for Banglalink minutes are increasing day by day as they save on both minutes and data compared to other operators.
All Banglalink SIM Minute Packs are discussed here. Also you can know about Banglalink Minute Pack Code to buy Banglalink Minute Packs here.
If you want to know about banglalink new minute pack 2023 then you can know it from here. Friends, please remember that there is no official information on the various websites of Bangladesh, they mislead you by giving updates as per their wish.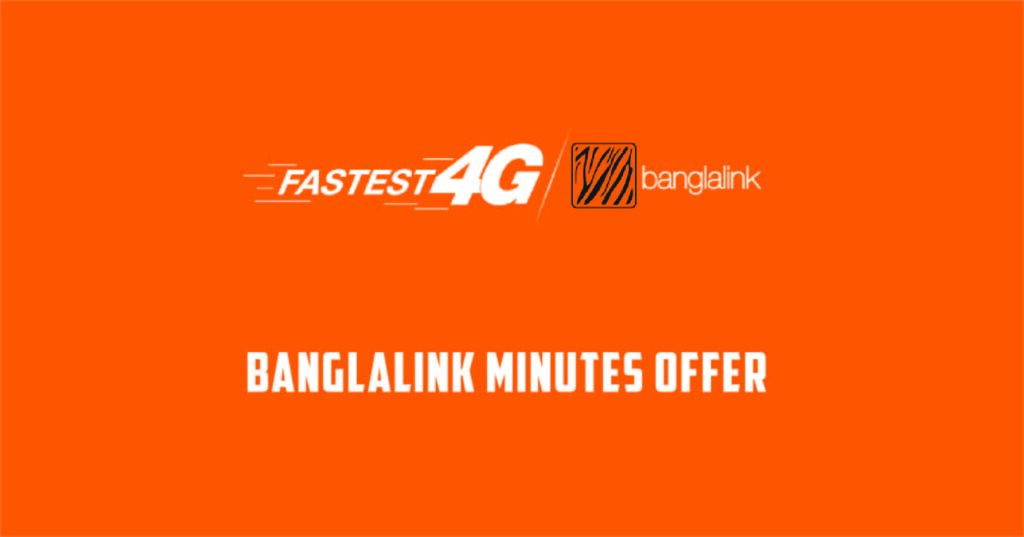 Banglalink Minutes Offer 2023
All Banglalink minutes purchase codes will be given to you in the detailed discussion of each offer. So read the full post.
Dear Banglalink SIM user, if you look at the current Banglalink minute packages, the 9 minute pack is noteworthy in providing only minutes.
Banglalink offers are now available from a minimum of 2 days to a maximum of 30 days.
If you think about other telecom operators, their operator's 14-hour duration minute offer is also running.
Here we will tell you about the new Banglalink minute offer, here you can know about all the offers published by Banglalink under the official banner.
Banglalink is now so much preferred by everyone in the country due to this variation in the duration of minute offer purchased for the same amount of money.
Currently there are two minute packs for two days in Banglalink SIM. A new minute offer of three days duration has also been introduced.
Currently there is a 15 day validity minute pack in the Banglalink minute package list.
Also, the number of 30 days Banglalink minutes offer is four.
Also some more new banglalink minute packs are not available in this table, but I will discuss about those offers in detail.
Banglalink Minute Package 2023 List
Friends, you can purchase all the minute packs mentioned in this table on Banglalink recharge.
Banglalink 9 Taka Minute Pack
Currently there is Banglalink 9 taka minute pack, but you cannot activate the 9 taka minute offer on direct recharge. Available only by using Banglalink 9 Taka minutes card.
But the best part of this Banglalink 9 Tk offer is that it is valid for two days.
Banglalink 17 taka pack
Banglalink customers who use minutes must know that Banglalink has a recharge offer of 21 minutes for 14 taka. However, for your information, Banglalink is currently promoting the Tk 17 28 offer more than the Tk 14 21 minute offer.
Tk 14 21 minutes and Tk 17 28 minutes, between the two Banglalink offers Tk 3, 7 minutes more in interval and number of minutes. This offer is valid for 2 days.
Recharge Tk 17 to avail 25 minutes offer.
Duration 2 days.
Banglalink 27 taka pack
You must know that there is an ongoing offer of Banglalink SIM for 24 taka 37 minutes. But you will be very happy to know that Banglalink has launched another new offer of Tk 27 for 45 minutes and the validity of this offer is fixed for three days.
Considering the amount of minutes and duration, Banglalink 27 Tk minute pack is a very good one minute offer compared to Tk 24 minute offer.
Recharge Rs 27 to purchase the 45 minutes offer.
Duration 3 days.
Note that Banglalink 24 Tk minute package is still running, you can purchase that minute package for Tk 24 recharge.
Banglalink Minute Pack 2023 validity 7 days
Friends, I told you earlier that Banglalink weekly minute offer currently has two packages running, one is 57 taka 90 minutes and the other is 74 taka 120 minutes pack.
According to my personal opinion if you want to use banglalink sim small minute pack then definitely use any of the two minute packs with minimum 7 days validity.
Banglalink 57 taka package
Currently, there are many Banglalink customers who still use the 47 taka 70 minutes offer.
I will tell you that if you are looking for banglalink minute offer period 7 days pack, use the 90 minute offer of 57 taka from the list. An excellent Banglalink minute pack of 7 days validity.
Recharge Tk 57 to get 90 minutes offer.
Duration 7 days.
Banglalink 57 taka 90 minutes code *121*57#.
Note that Banglalink Tk 47 for 70 minutes is still running and you can directly purchase minutes by recharging Tk 47.
Banglalink 74 taka pack
Friends, for those of you who are looking for 100 minutes package on Banglalink SIM, it is disappointing that there is no 100 minutes package running on Banglalink SIM.
However, Banglalink has recently introduced a 120 minute package of Rs 74 for its customers.
Recharge Tk 74 to avail 120 minutes offer.
Duration 15 days.
Banglalink 74 taka 120 minutes code *121*74#.
Banglalink minutes package validity 15 days
Good news for many banglalink users recently banglalink has released a new minute pack for their customers with a validity of 15 days.
Bangladesh's other telecom operator Banglalink's offers are excellent, so the Banglalink minute package has been fixed for 15 days, which no other operator is currently offering.
Banglaling Tk 107 recharge offer
Many of us know about Banglalink Tk 97 recharge offer. The original Tk 97 155 minutes offer is still available for Banglalink customers. However, the offer period of 97 taka 155 minutes is 7 days.
But for those of you who are looking for new Banglalink minutes offer 2023, it is a matter of relief that Banglalink has released a new minute pack for 15 days at Tk 107. In this offer, customers can talk for 17 minutes on any network.
Recharge Tk 107 to get 170 minutes offer.
Duration 15 days.
Banglalink Tk 107 for 170 minutes code is *166*175#.
Banglalink minutes offer validity 30 days
Using Dear Banglalink Minute Offer If you are looking for monthly minute offers on Banglalink SIM, then there are many minute offers for you.
Banglalink Tk 157 recharge offer
Currently, Banglalink is giving more importance to the 250 minute offer of 157 rupees compared to the 147 rupees one month minute offer for the customers.
And I will also tell you that if you Bangladeshi girls are looking for one month girl minute offer, recharge 157 taka and get 250 minutes.
Recharge Tk 157 to avail 250 minutes offer.
Duration 30 days.
Banglalink Tk 207 recharge offer
If you are looking for the lowest price offer for one month, now Banglalink is offering one month minute pack for just Tk 157. However, many people search Google about more minute offers in order to enjoy a little more minutes.
Many people know about Banglalink Tk 197 recharge pack, this minute pack is providing 310 minutes to Banglalink customers. Duration 30 days.
Banglalink 207 recharge is currently offering 340 minutes for a period of one month.
That is, you are getting 30 minutes more for just 10 rupees, so you will definitely want to purchase the Banglalink minutes offer with more.
Recharge Tk 207 to get 340 minutes offer.
Duration 30 days.
Banglalink Tk 307 recharge offer
The offers you discussed so far in the Banglalink Minute Package post were less than 500 minutes.
Finally we are discussing about a package of around 500 minutes of Banglalink SIM.
Many of us know about the Banglalink Tk 297 recharge minutes offer, which is still there but the number of minutes in the offer is less so customers are using the Tk 307 recharge pack.
Banglalink 307 recharge offer is currently providing 510 minutes.
Recharge Tk 307 to get Banglalink 510 minutes offer.
Duration 30 days.
Best Banglalink 500 minutes code is *121*307#.
Banglalink 1000 minutes offer
Currently Banglalink 1000 minutes is the best one month minute pack.
Where other telecom operators in the country have released a pack of 1000 minutes at Tk 604, Banglalink is offering 1010 minutes at Tk 607 with an increase of Tk 3.
In other words, the customer is getting 1010 minutes for a period of one month by recharging Tk 607 on Banglalink SIM. Also this banglalink customer is giving 1 GB internet free with minutes.
Banglalink 500 minutes offer
Dear Reader, currently Banglalink is not providing any offer of 500 minutes to its customers.
But if you want to use Banglalink Minute Pack for 30 days, then of course you can purchase the 510 minutes offer by recharging Tk 307.
Banglalink 300 minutes offer
Friends, there is no offer of exactly 300 minutes on Banglalink like Banglalink 500 minutes package.
But if you want to use the offer close to 300 minutes, then recharge Tk 207 and you will get 340 minutes, for a period of one month.
Banglalink 200 minutes offer
If you need any banglalink minute package of exactly 200 minutes, we are sorry to inform you that Banglalink currently does not provide exactly 200 minutes minute pack.
However, you can purchase a minute pack of 250 minutes with a Banglalink recharge of Tk 157.
Validity will be 30 days.
Banglalink 100 minutes offer
Dear reader, from the above discussion, you must have come to know about all the minutes packs of Banglalink.
If you are looking for any banglalink minute pack of exactly 100 minutes then sincerely sorry you are not getting any such package currently, but you are getting a pack of 90 minutes at 57 taka recharge directly.
And if you want to use the offer a little more than 100 minutes, you can purchase 100 20-minute offers for a recharge of Rs 74 with seven days compliance. Duration 7 days.
How much is the code to buy banglalink minutes?
Many friends search Banglalink minute purchase code on google. For your information, you can directly dial *1100# to buy minute pack on Banglalink SIM.
That is, the Banglalink minutes purchase code is *1100#. After dialing, the list of all the minutes offers running on Banglalink will be displayed on your mobile screen.
You select your preferred minute offer from the list. The offer will be activated if you have enough money in your SIM.
How much is banglalink minute check code?
After purchasing a minute pack of any telecom operator, it is very important for the customer to know about the remaining minutes in the minute pack.
conclusion,
Hope you got to know all Banglalink SIM minutes offers well. You can visit our site regularly to get accurate information about Banglalink Minute Pack.
Because we get the new minute pack update released by Banglalink before everyone else and we publish the screenshot of Banglalink official banner in front of you on our website.
You can visit our site regularly to get accurate information and updates about all offers.
And you can join our Facebook page.