Today's post is about Bangladeshi fastest growing mobile network Banglalink internet offer 2022 which is currently published on Ookla speed test. Banglalink internet pack is at the top of customers' choice due to cheap price and long validity.
Banglaling internet offer is now providing you internet offer from 1 GB to 40 GB.
You can purchase any Banglalink internet offer through recharge if you want. Also Banglaling internet can now be offered easily with activation code.
Banglalink internet offer 2022 list
If you list Bangladeshi popular and best internet pack providing mobile operators, then Banglalink will be in this list.
I already told you about Okla speed test best 4G speed mobile network Banglalink. Let's see Banglalink internet package 2021 list.
Banglalink internet recharge offer 2022
In Banglalink Internet Offer 2022 post, we will tell you about the recharge offers. Currently you can activate the offer by recharging a specified amount to purchase Banglalink Net Pack.
All Banglalink SIM recharge Banglalink Internet internet pack validity, internet amount, recharge amount are mentioned here.
For instance, if you want to purchase internet package without dialing any Banglalink Internet pack code, then this post is for you.
Banglalink internet offer 2022 list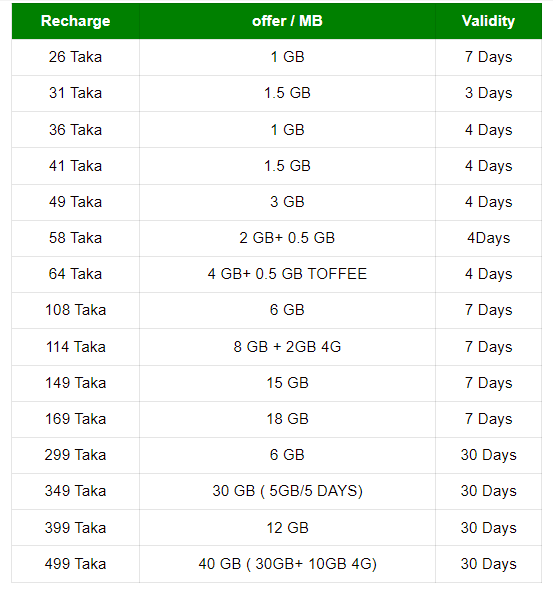 Banglalink 1 GB offer
Currently 1GB internet offer has been launched for Banglalink customers for different durations.
Now you can purchase 1GB internet for 7 days and 3 days on your Banglalink SIM.
Banglalink SIM can buy 1 GB internet for 3 days at the cost of 36 rupees. However, in this offer the customer is being given 512 MB internet 4G internet free.
Learn More:
Also if you want to use 1 GB internet on Banglalink SIM for 7 days period, then recharge 51 Tk. Banglalink internet offer 1 GB 7 Days pack price 51 Taka, directly recharge 51 Taka to activate.
Mostly banglalink internet users look for 1 GB cheap internet offer. Currently the Banglalink 1GB internet offer starts with a recharge of Tk 26.
For instance, many Banglalink customers look for cheap Banglalink 1 GB offer internet. Many times Banglalink gives 1 GB cheap internet offer to customers through SMS.
But not all cheap internet offers offer 3G/4G speed. So buy the 1 GB offer at a very cheap price and get into trouble.
BL 1 GB 26 Tk Offer
Please refrain from buying cheap Banglalink internet offers.
Because now regular Banglaling internet offer is giving you 1 GB internet pack for just 26 taka.
Recharge Tk 26 to your Banglalink SIM to purchase the offer. Duration 7 days.
BL 1.5 GB 31 Tk Offer
Banglalink internet offer 2021 list shows three-four offers for girls.
For example, 31 taka for 1.5 GB internet period is 3 days. Again 1.5 GB internet for 41 Tk period 4 days.
But I will tell you that you can feel free to purchase the specific offer you need from the above table.
Banglalink 31 Tk recharge offer you get 1.5 GB internet. For a period of 3 days.
BL 1 GB 36 Tk Offer
Banglalink is now giving you Banglalink 4G internet offer at 36 taka per SIM. If the mobile phone you are using is 4G supported, you can use 1 GB internet on your Banglalink SIM for 36 taka for a period of 4 days.
Banglalink 41 Taka 1.5 GB Offer
In Banglalink internet offer some time ago 1 GB internet offer price was Tk 41. But now Banglalink is giving you 1.5 GB internet in Tk 41 recharge offer. Duration 4 days.
BL 49 Tk recharge offer. 3 GB
Currently, most of the mobile operators in Bangladesh are offering a call rate of 49 taka recharge. Banglalink is somewhat of an exception in this regard. Banglalink is providing internet pack to the customers at Tk 49 recharge.
Banglalink 49 tk recharge offer Earlier Banglalink is giving you 2.5 GB internet but now Banglalink is giving you 3 GB internet.
Duration 4 days.
BL 58 Tk recharge offer
In the new banglalink internet offer list, you get 58 taka recharge offer:
Total 2.5 GB internet (2 GB regular + 500 MB 4G)
Duration 4 days.
BL 64 Tk recharge offer
Many new internet offers are giving free data to use Banglalink TV app Toffee. Banglalink 500 MB free Toffee is now available on Tk 64 internet offer.
Banglalink Tk 64 Internet offer gives you-
4.5 GB internet (4GB regular data and 500 MB Toffee)
Duration 4 days.
Banglalink internet offer 7 days
Banglalink popular internet pack is banglalink weekly internet offer compared to 3 days and 4 days internet offer.
We believe that you will find internet offers according to your choice and need from Banglalink weekly internet packs.
Banglalink 108 tk recharge offer
108 taka 6 GB pack on Banglalink SIM is the favorite internet offer of many.
To purchase the offer you need to recharge TK 108 or use the activation code 5000108#. Duration 7 days.
Banglalink 114 tk recharge offer 2022
A nice customer friendly internet offer on Banglalink SIM is TK
114 recharge offer. Currently 114 Tk internet offer is giving you 6 GB.
However, various changes in this offer are noticeable, sometimes offering 8 GB. Sometimes 8 GB and sometimes 10 GB internet is available in recharge from mobile banking.
So you don't get too confused with Banglalink Tk 114 recharge internet offer. Banglalink tries to provide maximum amount of internet data to its customers.
Now you are getting 10 GB internet from banglalink 114 Tk internet offer 2022
8GB regular and 2GB 4G
Duration 7 days.
Banglalink 15 GB Offer
If the internet usage on your Banglalink SIM is very high, you can purchase the weekly 15GB offer.
Now 149 Tk Banglalink recharge you will get 15 GB internet for 7 days.
Banglalink 169 TK recharge offer
Banglalink MB offer 169 Tk internet pack is the biggest and offers more data for 7 days period.
Recharge Tk 169 to buy this offer now, you will get 18GB internet.
BL 299 TK recharge offer
Friends, you are getting only 6 GB of internet for 299 rupees because Banglalink monthly internet pack has a longer term compared to Banglalink weekly internet. Recharge Tk 299 to get 6GB internet for 30 days.
BL 30 GB internet offer 2022
Banglalink customers need a special internet offer. All Banglalink customers avail this offer from Banglalink internet offer 2022.
Now you are getting 30 GB of internet in Banglalink Recharge 349 Taka offer however, Banglalink 30 GB internet offer has some limitations for customers.
Because you will get 30 GB internet in 5 installments. 30 GB internet will be given per month in total of 6 steps with 5 GB in each step.
Recharge Tk 349 to purchase 30 internet offers on Banglalink SIM. Duration 30 days.
BL 399 TK recharge offer
If you get 15 GB internet on Banglalink SIM costing Tk 149, how many GB will you get for Tk 399? The minimum is around 40 GB.
However, since Banglalink Tk 399 recharge internet offer is valid for 30 days, you are getting only 12 GB internet.
For instance, there is no share in this offer like Banglalink 349 Tk 30 GB offer. You can use banglalink 12 gb internet pack anytime of the month.
Banglink 499 TK recharge offer Banglalink 40 GB pack
largest Banglalink net offer now TK 499, 40 GB offer. If you need new Banglalink internet pack then you can purchase this offer.
Banglalink Internet Offer 2021 Banglalink is giving you 40GB internet on recharge of Tk 499.
Banglalink 40GB offer is divided into 30GB regular internet data and 10GB 4G data.
To purchase Banglalink 40 GB offer
499 Recharge TK.
Duration 30 days.
40 GB internet (30 GB regular internet + 10 GB 4G)

Banglalink Internet Package 2022
Some customers call Banglalink offer as Banglalink internet pack. Many people search Google for banglalink MB offer or banglalink net pack.
But all customers aim to purchase the best internet offer for themselves from the same Banglalink internet pack 2022.
Banglalink provides various internet offers to its customers. Bl offers various types of internet packages including recharge internet offer, Banglalink monthly internet package, and Banglalink social pack.
So you can easily choose your required Banglalink offers here.
About Banglalink net offer 2022
To purchase a 1GB internet pack in Banglalink sim you can use the direct recharge method or dial Banglalink internet pack code * 5000 #. In this pack, Banglalink is providing 1.5 GB of internet for three days at a direct recharge of Tk 36. Also, recharge 51 Taka to get 1 GB of internet for 7 days validity in Banglalink SIM.
How can I check my Banglalink offer?
To check My Banglalink offer, dial * 888 # from your Banglalink SIM. Special offers of your Banglalink SIM will be displayed on your mobile screen.
How can I buy Internet in Banglalink?
Banglalink internet offer can be purchased using the recharge method and USSD code. Here is a detailed discussion about Banglalink Recharge Internet Offer. Also, if you have sufficient balance in your SIM, dial * 5000 * 50 # and purchase the internet pack of your choice from Banglalink.