Airtel Recharge Offer BD 2022 helps customers get the package of choice. Many Airtel SIM customers know about Airtel recharge offers, but currently there are many new Airtel call rate offers, airtel internet offers, airtel minutes offers for customers. In this post you will know about all Airtel call rate offers.
Most of the customers use Airtel recharge method to purchase their favorite offers.
In addition, you can use Airtel SIM if you want long validity of any offer. Honestly speaking, if you use Airtel BD Recharge Call Rate Offer 2022, we think you will refrain from using other SIM.
Therefore, we will try in this post to give you an idea about all the offers in the Airtel Recharge Offer BD list. Because I have been working with Airtel BD for the past 5 years, stay with us to know about Airtel recharge offers in Bengali.
Airtel Recharge Offer Bangladesh 2022 Call Rate
For instance, you need to know which is the best offer for you from Airtel Recharge Offer 2022 list? Most Airtel customers purchase their call rate offer and recharge.
All Airtel internet offer codes are there but in this post we are not telling you about Airtel codes.
Friends, by choosing the right Airtel call rate offer at present, you can talk at low cost and save your expenses.
Read more:
In this case Airtel 48 paisa Minute Call Rate Offer can be one of the best choice for you.
So we are going to tell about Airtel Recharge Call Rate Offer first.
| | | |
| --- | --- | --- |
| Recharge | Call rate | Validity |
| 24 Tk | 48 paisa/Minute | 3 Days |
| 42 Tk | 48 paisa/Minute | 7 Days |
| 94 Tk | 48 paisa/Minute | 30 Days |
| 133 Tk | 48 paisa/Minute | 630 Days |
Airtel 24 Taka call rate Offer
Customers friends, if you look at GP and Banglalink call rate offers, you will see that two types of call rate packages are running now.
But you are getting 4 similar 48 paisa Minute call rate offers from Airtel recharge offer BD.
Airtel Recharge call rate Offer cheap call rate 48 paisa minutes starting at 24 taka recharge.
Friends Airtel Recharge Call Rate Offer is now giving customers a validity of 3 days to 30 days.
For instance, the thing to be noted is that all mobile operators are giving minutes for 24 taka recharge, so customers of other operators including Airtel, know about this before recharging 24 taka.
Airtel 42 Taka Offer
Many customers are not aware about the popular Airtel call rate offer 7 Days. Because Airtel 39 Tk call rate offer is now changed to Tk 42.
Currently you have to recharge 42 TK to get Airtel 48 paisa call rate offer. Duration 7 days.
Airtel 94 Taka call rate Offer
Airtel BD is the first mobile operator in the country to offer a call rate pack of 100 taka for a period of 30 days. GP 30 days term call rate offer price 139 taka, Banglalink sim is giving 159 taka.
For instance, Airtel call rate offer from BD now if the customer recharges only 94 taka, Airtel 48 paisa minute call rate offer will be launched.
Friends you all purchase Airtel call rate offer, recharge amount will be credited to your account and call rate will be activated along with it.
Airtel 133 Taka call rate Offer
Friends, I have already told you that Airtel offers the best call rate among all mobile phones in Bangladesh.
Airtel has brought a Call Rate Offer for its customers for a period of 60 days which is not available in any other operator.
Friends Airtel 60 days call rate offer price 133 taka.
Any customer can purchase this offer. Airtel to any network 48 paisa minute rate Recharge now 133 taka.
Airtel recharge offer internet
Friends Airtel recharge offer bd post is mainly to know about Airtel recharge call rate offer.
But considering some additional benefits, here are some offers about Airtel recharge internet offer.
Currently Airtel Internet Offer 2022 for customers starting from Tk 29 to Tk 344. Let's check Airtel Recharge Internet Offer 2022.
| | | |
| --- | --- | --- |
| Internet | Amount | Validity |
| 1 GB | 29 Taka | 3 Days |
| 2 GB | 49 Taka | 3 Days |
| 4 GB ( 3 GB+1GB 4G) | 64 Taka | 4 Days |
| 5 GB | 101 Taka | 4 Days |
| 30 GB | 344 Taka | 30 Days |
Airtel Recharge Minute Offer 2022
In addition, if you use more minutes, you can try Airtel Minute Pack. Airtel Recharge Minute Pack has different offers starting from Tk 14 to Tk 488.
In addition, Airtel bundle offer 2022 is giving many packages to customers. There are some bundled offers with minutes and internet as per customer needs.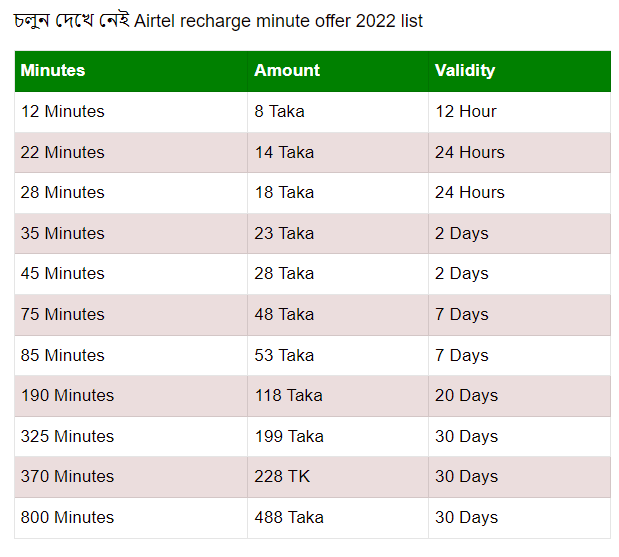 Friends, you can activate the minute pack of your choice from the Airtel minute offer list by recharging the amount specified in the Airtel recharge method.
Airtel bundle offer 2022
The most popular Airtel recharge offers among customers are Airtel bundle offer 2022. Airtel recharge bundle pack is best for customers who combine minutes and internet usage.
Airtel recharge bundle pack list
From this table you can find the best Airtel recharge bundle offer for you.
Recharge the specified amount from the Airtel recharge offer BD table list to purchase the Airtel bundle offer of your choice.
Airtel 34 TK recharge offer
Airtel bundle offer now starts at just 34 taka. This offer provides 500 MB internet and 35 minutes.
Recharge Tk 34 to your Airtel SIM to avail the offer.
Duration 3 days.
Airtel 93 TK recharge offer
You will get 150 minutes and 400 MB internet data by purchasing Airtel Tk 93 weekly bundle pack.
Recharge TK.93 to purchase the offer.
Duration 7 days.
Airtel 158 Taka recharge offer
The most popular airtel recharge offer is the bundle offer of TK 158. Airtel Tk 158 bundle offer is the main reason why customers prefer this offer period.
Recharge TK 158 to purchase the offer. You get
150 minutes,
3 GB Internet,
30 days validity.
Regular 3 GB internet but sometimes customers get up to 5 GB internet.
Airtel 294 Taka recharge offer
Use this bundle offer if you need 250 minutes 7GB internet pack for 30 days period. Recharge TK 294 to avail the offer.
Airtel 298 Taka recharge offer
A very old bundle offer in Airtel BD offer. The first bundle offer from Airtel is TK 294.
298 Recharge TK.
475 minutes,
2 GB Internet, sometimes up to 4 GB available.
Duration 30 days.
Airtel 548 Taka recharge offer
In addition, Airtel recharge offer BD is offering this new bundle offer for their customers.
30 GB internet and 800 minutes offer is now the top choice of Airtel customers. You can purchase the offer by recharging TK.548.
What is the best offer for Airtel Bangladesh?
Airtel is offering some of the best deals for Bangladeshi customers.
Of the offers, we consider the 133 taka recharge call rate offer to be the best offer for a period of 60 days.
What is 158 Taka recharge in Airtel?
This is the lowest recharge bundle offer among Airtel one-month term bundle offers. With Airtel 158 Taka Recharge Offer Customers Get 5 Minutes Internet Pack With 150 Minutes.
How to check Airtel offer in Bangladesh?
Airtel SIM users need to dial * 888 # to know about their offer.
What is the 149 pack of Airtel BD?
At present Airtel BD is not offering any Airtel minutes and internet packs for a recharge of Tk 149.
How to purchase Airtel recharge offer?
To purchase Airtel recharge offers, select the offer of choice using the Airtel Retailer Points Table or your mobile banking service apps.
Conclusion,
Friends Airtel recharge offer bd 2022 list till today. Learned about recharge call rate offer from Airtel call rate offer.